Janet Devlin- Confessional
Five years in the making, and preceded by three successful singles, the time has finally arrived for Irish singer-songwriter Janet Devlin to unveil her stunning new concept album Confessional, in tandem with the publication of her astonishing autobiography, 'My Confessional', published by Omnibus Press. Both are available to pre-order NOW.
On 5 June 2020, Janet Devlin steps back into the spotlight that once made her a national sweetheart. At the age of just 25, her brave and ambitious dual concept album and autobiography are primed to position Janet as one of Gen Z's most valuable players. They offer an intimate look into a decade of the singer-songwriter's life; from the years leading up to her appearance on the X Factor, to the present, as well as giving those who struggle with the same mental health issues that Janet has survived, a sense of comfort and hope that they too, shall overcome. Each chapter in the book unlocks the truth behind each song on Confessional; and as Janet says, "The only way out now - is up."
Confessional, produced by Jonathan Quarmby (Lewis Capaldi, Benjamin Clementine, Tom Walker), was written in collaboration with a small selection of hand-picked songwriters (Lauren Aquilina, Fiona Bevan and Paul Statham). It was intermittently recorded over the course of two years, in two separate studios (RAK Studios, London and Westland Studios, Dublin) to ensure her friends and bandmates were involved, as well as capturing the all-important Irish flavours central to Janet's identity. The album is fuelled by pop songs that wear not only their hearts, but their scars, on their sleeves: the purest confessions of a young life lived less ordinary, twelve true-to-life tales, each as candid and powerful as the next.
Confessional, like its 46,000-word companion piece, is a rollercoaster of powerful emotions, with each track (and chapter) running parallel to the singer's life. It is a balanced fusion of introspective Irish folk melodies, brooding anti-ballads and big, soaring singalongs – a pure mirror reflection of Janet's unbelievable-but-true life story. It has been created on her own terms, so the songs and production remain as independent and homegrown as possible with Janet at the heart of all decisions. It's with this album that she triumphantly marks her re-emergence to the musical landscape as a confident, mature singer-songwriter, securing her place in the industry with authenticity and integrity.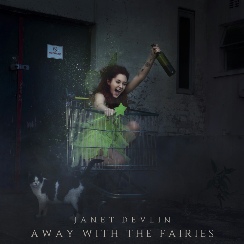 With the album and book soon to be in the hands of her fans, Janet is now free to set her mind to what comes next. "Taking this album, and the book, on tour will be the final piece of this massive puzzle. I'm looking forward to bringing my experiences of hope and survival out to the people who may need to hear it, and hopefully feel empowered and supported. We need to begin having more conversations, start a debate and look these issues straight in the face. That's what this whole idea of 'confession' has been about: to show people that no matter how dark your life can get, there is always a light to aim for."
Expect tour dates to be announced soon. And, of course, because this is Janet Devlin, she will continue to remain a leading light in the fight for better independent artistic control, mental health and creating music that is the antithesis of disposable pop. And we will continue to expect the unexpected. You heard it here first. Until then, spread the word: Janet's back where she belongs…
https://www.janetdevlin.com/
Tracklisting:
1. Confessional
2. So Cold
3. Saint of the Sinners
4. Cinema Screen
5. Speak
6. Honest Men
7. Love Song
8. Big Wide World - single 2
9. Away with the Fairies – single 1
10. Sweet Sacred Friend
11. Holy Water
12. Better Now
For more info : Go Entertainment- Sjaak de Bruijn info@go-entertainment.com