Addictive



Roachford
Released 30 september 2011
Andrew Roachford is back with a stunning new album - 'Addictive', set for release on September 30, 2011. This powerfully emotive and soulful album brilliantly showcases Andrew's unique song writing style that has been described as his edgiest sound to date.
The past five years have seen Andrew writing and singing on everything from top-five selling international dance tracks to co-writing and touring with Mike and the Mechanics. Andrew explains that "Growing up surrounded with Jazz and Soul, and working in the studio with The Clash as a teenager" gave him an incredible grounding in music. "I've never categorized music, I listen to music that moves me…. and that's what inspires my writing".
The 'Addictive' album has a truly powerful stripped back sound that few have the raw ability to pull off with such stunning results. Andrew says, "Simplicity is the key. Stand out tracks such as 'Hello Friend', with it's honest production and the uplifting 'I Get High' with its heart rending lyrics perfectly showcase the sound of an artist on top of his game.
Relationships are a core theme of the 'Addictive' album, "This album explores the things I care about most" Andrew explains "Love and people and all the stuff in between".
'Addictive' is alsothe lead radio track from the new Album'. The release of the 'Addictive' album coincides with a UK and European tour that kicks off in October in the UK and sees Andrew Roachford on the road - a truly unique and electrifying performer and artist.
RELEASE SHOW (with Mamas Gun)
Amsterdam-Melkweg 12 september 2011
ROACHFORD-ADDICTIVE
tracklisting:
1.Addictive
2.I Get High
3.The only one
4.Hello Friend
5.Complicated
6.Seize The Day
7.The Doctor
8.Saving Angels
9.Feel So Good
10. Precious Love
11. Say it
12. Good For Me
13. Wishing You knew
Word Of Mouth

Roachford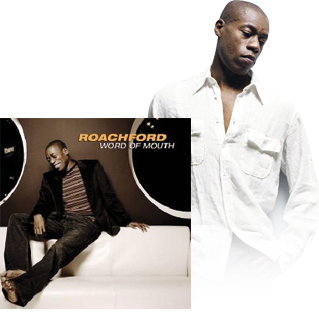 Andrew ROACHFORD is one of Britain's most distinguished R&B musicians. Growing up in London and influenced by the sound of Curtis Mayfield, Al Green, Reggae and Jazz, this influence was soon to mold his very own blend of the above styles. "If you keep your ears open, cultural variety keeps you from musical small-mindedness", says ROACHFORD.

Andrew ROACHFORD (38), whose ancestors originate from the West Indies, was raised in a family of musicians. At the tender age of seven, his musical curiosity was aroused. "There was always a piano in the house and I just got up and started playing even though I'd never played before. There was something quite surreal and magical about it." In the early Eighties, Andrew regularly accompanied his uncle Bill Roachford to his performances. Bill Roachford was a well-known saxophone player, who had taught Ronnie Scott and Femi Kuti. From him, he learned everything a professional musician should know. "I was in the middle of that whole jazz scene which was an interesting education. It taught me musically, how to listen and how to entertain. My uncle always told me that you had to give people a show."

In 1986, he founded the band ROACHFORD in London. The band soon gained a loyal following playing a mixture of funk, soul and melodious rock. In 1988, the debut album "Roachford" was released and reached gold status almost immediately. The up-tempo song "Cuddly Toy" became an instant hit single, reaching position 4 in the UK single charts. In England, his subsequent albums "Get Ready" (1991), "Permanent Shade of Blue" (1994), "Feel" (1997) and the Best-Of album "The Roachford Files" (2000) won him several more gold records.

Although ROACHFORD never championed pigeonholing, he once tried to define his sound. But the release of "From Now On" (2001) showed him that his definitions had to be revised. He will always be a versatile musician with body and soul. Regardless in which direction he produces and which style might be predominating, his technique and his feeling for the music is always excellent. This was also proven by his last album "Heart of the Matter" (2003).

In 2004 German music mastermind Mousse T. teamed up with Andrew to write the Top Twenty smash "Pop Muzak" intended for Mousse T's "All Nite Madness" album. The fact that the co-operation between the two was so fruitful lead Mousse T.'s label Peppermint Jam to further co-operate with Andrew by way of a solo album production deal with a worldwide record release agreement. The result is "Word Of Mouth", an excellent album: functional, enjoyable, timeless, intelligent and above all world class song writing.

The hypnotic blues ballad "Crazy Love" with its travelling arrangement is pure luxury for the ears or "Runaway" with it's sensitive and very emotional lyric with a singer- songwriter guitar rambling feel or even the uplifting soul vibe of "Rock you". Although clear differences exist between each track this is indeed a body of fine music.
Mousse T. plays his usual strong productive roll but was joined by top German producers Andreas Herbig, (A- Ha , Bootsy Colins Patrick Nuo), Franz Plasa (Echt, Selig, Falco). and Hannover-based production duo So Phat.
Heart of The Matter

Roachford
Soul man, musician and poet – Andrew Roachford has become many things to many people, but no matter what category you put him in, he'll always find someway of getting out of it. Never allowing himself to be pigeon holed, Roachford's previous album 'Heart of the Matter' explores yet another musical avenue.

In 2003 Andrew Roachford returned with an album which heralds a marked change in musical direction and one that will surprise many. Released on M3 records, a record label set up by Andrew with his management, the self written and produced 'Heart Of The Matter' perfectly showcases Andrew's talents as a jazz and classically trained pianist, consummate soul vocalist and producer as well as the songwriting prowess that has been well documented by critics, fans and fellow artists.

The new sound of Andrew Roachford has resulted in an album that has the energy and impact of a debut piece of work. This beautifully crafted album is a perfect mixture of upbeat soulful tracks as well as jazzy laidback tunes. Its smooth production allows Roachford to display his superb vocals at its simplest and best, particularly evident in tracks such as 'Walk On' ; 'The Music' and 'The Pressure".