THE TIN PAN SESSIONS EP
RELEASE DATE: 20TH NOVEMBER 2020
A 4 TRACK EP PERFORMED LIVE, SIMULTAMEOUSLY FROM 5 DIFFERENT LOCATIONS. A 'GLOBAL FIRST'. BUY & STREAM HERE (add link)
"Wonderful music that combines classic soul influences with a distinctly modern production approach…" The Sunday Times
"As heart-warmingly catchy as anything from Stevie Wonder's purple patch" – UNCUT
MAIL ON SUNDAY 'This Brit-soul band make IRRISISTABLE records'
CLASH "At the forefront of 21st century soul"
Spotify update: MAMAS GUN ARE APPROXIMATING OVER 2.5 MILLION STREAMS ON MOST OF THEIR SONGS ON SPOTIFY, ALL THROUGH TOTALLY ORGANIC GROWTH
During the heart of the global Lockdown which was striking change and uncertainty in most people's lives, UK act MAMAS GUN became the first band to ever perform and stream a whole concert, absolutely live whilst stationed in separate locations to each other. Armed only with their mics, their instruments, their laptops and some mind blowing new technology provided by 'TIN PAN STUDIO'
In May 2020, this newly developed ultra low latency technology allowed Mamas gun to perform live over the internet in real time for their global fanbase despite being based remotely & miles away from each other. The concert was a huge success with large numbers of viewers tuning in to 'attend' the gig. Also as a result of the extremely high quality audio captured during this live streamed show, the band are now able to release recordings of some of these performances, capturing this exclusive and special moment in time on record.
Mamas Guns TIN PAN SESSIONS present a global first being the first commercial release of performances from a band recorded in this way.
This mould breaking technology was developed by Mamas guns long term sound engineer Doug Hunt. When the pandemic hit, Doug started looking for ways to help bands perform together remotely over the internet. "Like everyone else, I came up short," he says. "There just wasn't anything available that had fast enough monitoring for professional musicians while providing great quality audio."
Desperate to continue to make music with the bands he loves, Hunt set about creating what became Tin Pan Studio. The technology behind Hunt's creation is unique and combines ultra-low latency server-based monitoring for the musicians, with studio-quality audio for the engineer to mix. Removing the disruptiveness of delays in audio and enabling a way for the bands own engineer to mix the feeds resulted in capturing extremely high quality recordings that also uniquely represent the exciting sense of unpredictability, adrenaline fuelled & energic vibes that all great live performances offer.
"I've worked with Mamas Gun for many years" shares Hunt. "They were the perfect test bed for the new software as they have extremely high standards & are musically excellent. I knew if we could capture their recordings in this manner at the sort of quality levels demanded by them, we will have cracked something really special"
The four recordings released as part of the THE TIN PAN SESSIONS this November represent a selection of material that have helped Mamas Gun reach a sustainable level of success as an independent releasing act.
POTS OF GOLD, a track from their debut album (Routes To Riches), was first picked up by Chris Evans, (at the time a key presenter on BBC Radio 2) who hailed it as "the best track I have heard from a very long time". This song bought profile and growth to the band in a much bigger way than could ever been anticipated, becoming a top 10 chart hit in many territories including in Asia, a territory the band now tour large sell out shows in several times a year. This song has also featured in advertising campaigns for Hyundai & Samsung.
RED CASSETTE featured on Mamas guns album 'Cheap Hotel' and was their most playlisted radio track. A nod to technologies of age, perhaps a somewhat ironic reflection on where these latest recordings have come from and how despite the use of an ultra modern methods, still retain the classic sounds they are known for.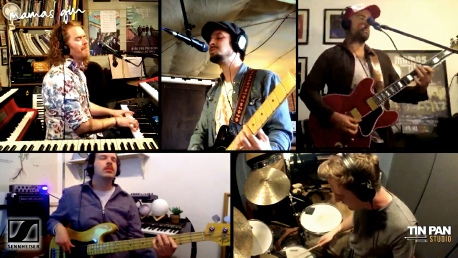 The remaining two recordings included on the THE TIN PAN SESSIONS are I NEED A WIN & THIS IS THE DAY. Both tracks feature on the band latest album GOLDEN DAYS & both are heavily supported in particular by spotify where they continue to be added regularly to large playlists.
THIS IS THE DAY has enjoyed particular success recently, re recorded as the full band version that is heard on the TIN PAN release and issued on 7 inch vinyl format. Repressed several times, these vinyl's have started to become collectors' items receiving acclaim and praise from tastemakers in the vinyl world regularly & selling out in days on each new issue release.
Work on the bands next record is well underway and in between lockdown periods the 5 piece have slowly but surely been completing new studio material due for release in 2021. Until then however, during this strangest of times when fans and bands alike are lamenting the pleasures of the live concert experience, Mamas Gun hope to bring some sense of this joy back into the picture through this special, ground breaking EP release.
Mamas Gun – TIN PAN SESSIONS EP is released digitally November 20th 2020
A Promo video/talking heads piece with the band will be released to support the EP via the Mamas Gun youtube channel
2 limited edition 7 Inch vinyls will also be released featuring these recordings
TRACK LISTING:
1. I Need a Win
2. Pots of Gold
3. Red Cassette
4. This is The Day