MAMA'S GUN

Routes To Riches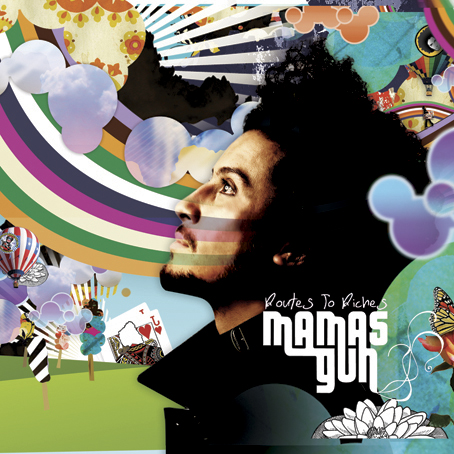 Supasneakers Live at Giel Beelen Radio 3FM
Single: Let's Find A Way
Watch the video
Watch the EPK

BIOGRAPHY
Release NL: 22 januari 2010

The name is inspired by an Erykah Badu album, but the sound could only be Mamas Gun, and the future is very bright indeed.

With some heavyweight media momentum behind them, the five-piece band are shaping up to be one of 2010's most compelling new album acts. National UK radio support already in the hold, they're set to release an exhilarating debut album, 'Routes To Riches,' with a remarkable business model of independent funding that allows them the freedom to flex their awesome creative muscles.

The album oozes class, influenced by a range of musical landmarks from Motown giants Stevie and Marvin via acid jazz and the Average White Band to Lewis Taylor. Mamas Gun have old-school soul in their bones, but they also rock, they're bluesy, jazzy and funky, most of all they're exciting.

Their spirit of musical adventure comes through loud and clear on 'Routes To Riches,' and as vocalist, songwriter, producer and multi-media-savvy frontman Andy Platts describes it, the record is everything to do with musical enjoyment and nothing to do with fleeting fashions.

"I'm not trying to say 'This is black music,'" explains Platts, born in Hong Kong and now based in Hertfordshire. "Hopefully when you listen to the album, it's a kaleidoscope of a record that travels through genres and isn't tied down by anything. It's just about good songs and a bunch of guys enjoying themselves playing it. The one thing it tries to keep is the euphoria of soul music, of Motown and all great records. It's not trying to be anything, it just is."

'Routes To Riches' is the long-awaited result of a journey that began when the independently-created single 'Pots Of Gold' spent four weeks on the BBC Radio 2 playlist in 2008. Mamas Gun backed that overwhelming vote of industry confidence by touring with the likes of De La Soul, Raphael Saadiq and Taio Cruz, and with a sellout London headline show of their own.

That airplay and attention brought them to the notice of Universal, who started working with Mamas Gun and completed the funding of the album, mixed in Los Angeles by Grammy Award-winning producer/engineer Jack Joseph Puig (Black Eyed Peas, U2, the Rolling Stones) and mastered by the equally notable Bob Ludwig. Platts co-produced 'Routes To Riches' himself with Julian Simmons (Guillemots).

As a great example of a modern-day band using the record industry to its advantage, Mamas Gun weren't even phased when a corporate restructure cut short that Universal association. In a "win-win" situation, they got the rights to their record and set about striking a new "angel" deal with investment company Icebreaker/Shamrock Solutions, who've given the band the further funding to move forward.

It's a business solution that's now working for a wide variety of artists, from the Prodigy to Madness and Beverley Knight, and for Mamas Gun it's the dream result, allowing them to set up their fully-funded Candelion label. Their ambitions have worldwide scope, too, and the band are already accomplished at knocking out five-figure festival crowds in Europe.
"The model has changed, and I wasn't disappointed at all," says Platts. "The label got credit-crunched, they had to consolidate into a smaller company, but we got basically thousands of pounds' worth of mixing and production. Making music is a lifestyle choice, you live and die by that, and ultimately it's not about getting a golden contract, it's about the body of work you create over your lifetime."

At the steering wheel of this Mamas Gun line-up for some two years, with a wealth of experience before that and some unique heritage, Andy Platts is quite a renaissance man. He was born in a military hospital in Kowloon, Hong Kong, to a nomadic father who taught him the Beatles, the Doors, ELO and much more, and a Filipino mother who played Spanish-influenced guitar.

As a young man full of wanderlust, Andy's dad jumped on a Nomad bus and landed in the Far East as a police recruit in their battles with the underground triad organisations. His chequered career also included time in the airline and oil businesses and even a stint in Paris with Interpol.

Following the family back and forth, Andy himself started more schools than he can remember. "I think I fell into music just because it was a consistent thing in my life." he says. "You're hopping around the world all the time. You're greeted with different reactions wherever you go, kids don't understand at that age. I got called a lot of names, but that probably helps you, it drives you. I do feel English," he smiles. "I swear like an Englishman, I love tea."

Platts won a place at Liverpool's LIPA institute and was soon turning heads in a band that also featured Steffan Halperins, now the drummer with Klaxons. He then played on Corinne Bailey Rae's hugely successful debut album and, in 2006, landed his own publishing deal with Zomba Music. That led to collaborations with an extraordinary songwriting A-list, including Rod 'Thriller' Temperton, John Oates, Jed Leiber (son of hitmaking legend Jerry) and former Gil Scott-Heron collaborator Brian Jackson. "I was incredibly privileged to work with all of them, that they'd say yes, let's give it a shot, why not?"
His Mamas Gun bandmates are just as widely travelled. Bassist 'Professor' Rex Horan, another focal point of their feisty stage show, was born in the Western Australian desert, equally adept on violin and piano and in classical music. He's an adopted Londoner for the last dozen years. Keyboard player Dave 'Eighties' Burnell Oliver's musical education, originally in Hertfordshire, embraced everything from barbershop singing to French horn and now includes jazz, soul and Cuban playing. Guitarist Terry 'Spiller' Lewis studied music in Essex, got his diploma and taught guitar, going on to tour with Jools Holland as part of brother Christopher Holland's band. 'Union' Jack Pollitt has been everywhere to play drums, notably on 'Green Light' for Beyoncé's 'B-Day' album, with producer Pharrell Williams. That's five men with a world of experience.

If 'Routes To Riches' is chiefly made up of Platts' own songs, he's very open to future co-writes. In fact, his 360-degree creative vision also embraces many of the band's visual elements, in design and animation. "I like to get stuck in with generating awareness of the band," he says. "It's amazing what you can do with a small team of people, if they have a common goal in mind and you've got the hunger and drive to do it."

Mamas Gun have that by the bucketload, and 'Routes To Riches' is all the proof you need.